---
The Four Spiritual Laws
What are the four spiritual laws?
These laws are found in the Bible.
ONE
"God loves you and has a wonderful plan for your life."
John 3:16
"For God so loved the world that He gave His one and only Son, that whosoever believes in Him shall not perish but have eternal life."
What is keeping us from God's love and having an abundant life?
TWO
"People are DEFILED by sin and are therefore separated from God."
Romans 3:23
"For all have sinned and fall short of the glory of God."
Romans 6:23,
"The wages of sin is death."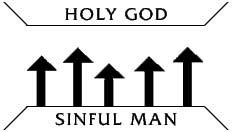 What should I do?
THREE
"Jesus Christ is the only Bridge between God and Man. He died for our sin to restore our relationship with God."
Romans 5:8
"But God demonstrates His own love for us in this: While we were still sinners, Christ died for us."
Jesus Himself said -
John 14:6
"I am the way and the truth and the life. No one comes to the Father except through me."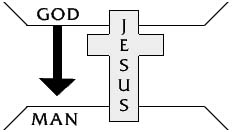 How can I receive this wonderful gift of salvation?
FOUR
"I must receive Jesus Christ as my Savior."
John 1:12
"As many as received Him, to them He gave the power to become Sons of God."
Acts 16:31
"Believe in the Lord Jesus, and you will be saved!"
"We must place our faith in Jesus Christ as Savior in order to receive the gift of salvation and discover God's wonderful plan for our lives."
If you want to receive Jesus Christ as your Savior, pray this simple prayer -
God, I know that I have sinned against you, defiled myself and deserve eternal damnation.

Please forgive me.

I thank you for loving me and sending your Son to save and rescue me.


Jesus Christ, I receive you as my Lord and Savior.

Cleanse away all my sin with your precious Blood you shed on the Cross.

Make me a Child of God, right now.

I will serve you for the rest of my life.

Amen!
---